ELGACERT

IN OFFLINE MODUS
Aandacht: Offline zijn niet alle functionaliteiten beschikbaar die online wel beschikbaar zijn. In offline modus kan je jouw conformiteitsattesten die in opmaak zijn verder afwerken en bewaren maar je kan ze niet tekenen. De eerstvolgende keer dat je terug in online modus werkt, zullen de aangepaste attesten automatisch gesynchroniseerd worden met de server.
Overschakelen naar offline modus kan op twee manieren:
1. Het toestel verliest zijn internetverbinding
Wanneer je in online modus werkt en het toestel zijn verbinding met internet verliest, zal Elgacert automatisch overschakelen naar offline modus. Dit merk je doordat:
enkel de eigen conformiteitsattesten "In opmaak" nog getoond worden;

je niet kan filteren of zoeken;

rechtsboven er een "Geen verbindings-icoontje" verschijnt.
2. Zelf kiezen om offline te werken
Weet je op voorhand dat er geen internetverbinding is of riskeer je om de verbinding te verliezen door een onstabiele internetverbinding, dan kan je zelf kiezen om over te schakelen naar offline modus. Klik hiervoor rechtsboven op je gebruikersnaam en klik vervolgens op "Overschakelen naar offline modus". Dezelfde drie fenomenen opgesomd in punt 1 hierboven zijn van toepassing.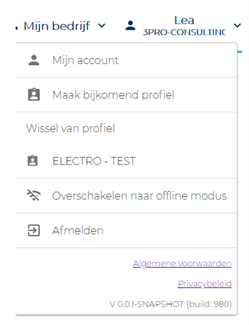 Conformiteitsattesten offline aanpassen
Wanneer je in offline modus een conformiteitsattest aanpast en op de knop "Bewaren" klikt, wordt visueel weergegeven op het scherm dat het attest niet meer in sync is met de gegevens op de server (zie gele kader in onderstaande afbeelding). Er is immers lokaal een aanpassing uitgevoerd die vereist dat het attest bij het opnieuw online werken eerst zal gesynchroniseerd worden.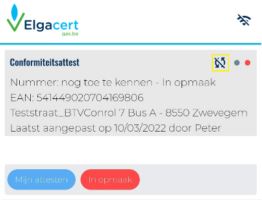 Terug online werken/synchronisatie van aangepaste conformiteitsattesten
Ben je klaar met je offline aanpassingen en is er terug een (stabiele) internetverbinding, klik dan rechtsboven op "Overschakelen naar online modus".

Je wordt automatisch omgeleid naar het aanmeldscherm waar je je terug kan aanmelden of kan kiezen om in offline modus te blijven.
Wanneer je succesvol bent aangemeld, zullen alle in offline modus aangepaste attesten automatisch gesynchroniseerd worden met de server. Tijdens het synchroniseren wordt volgende pop-up weergegeven: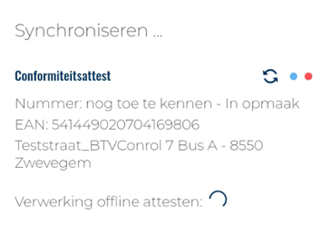 Nadat alles is gesynchroniseerd, verdwijnt de pop-up automatisch en kan je terug aan de slag met alle functionaliteiten die Elgacert biedt en kan je dus je opgemaakte attest tekenen.